Since its evolution, Beverly Hills is a place whose glitz and glam have captured the attention of the world. It is considered one of the most glamorous places in the world to live, eat, play, and shop. And while it is most certainly an unbeatable vacation experience, those lucky enough to live here get to experience a myriad of other benefits. Beverly Hills has plenty to offer its residents, and, as a result, it's no surprise that people love living here. We're here to tell you some of the top reasons people love living in Beverly Hills. 
A Rich History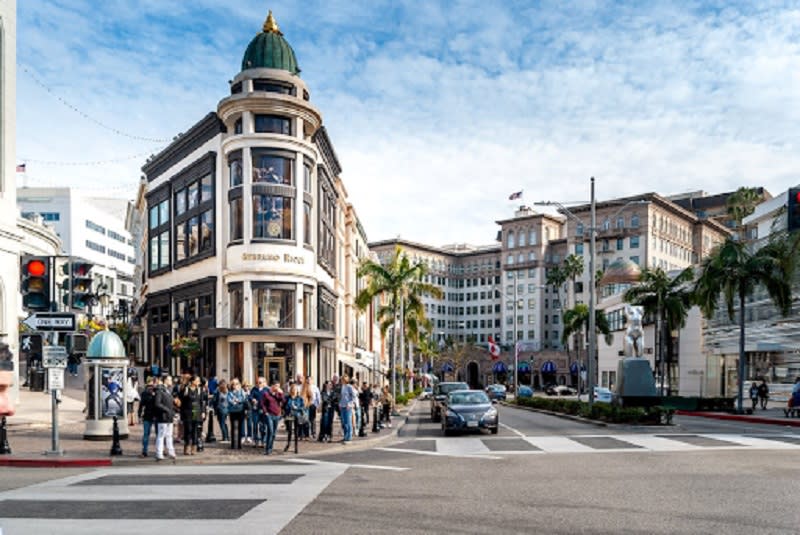 Beverly Hills has undoubtedly played an integral part in the development of Los Angeles and Hollywood as we know it. The rich and fascinating history of this community is just one of the many reasons that people love living here. The city of Beverly Hills was officially incorporated in 1914. Within the span of just a few years, it became a highly desirable place for celebrities to reside when actors Mary Pickford and Douglas Fairbanks built their legendary home, Pickfair, in 1919. This started the migration of many other movie stars from Hollywood, making Beverly Hills a popular spot for the rich and famous. Since the 1950s, Beverly Hills has gained a reputation for being an elite shopping destination—inarguably, the best in the entire city of Los Angeles. The Golden Triangle, with Rodeo Drive nestled in the center, was built and marketed to the rest of the world as a shopping destination of a lifetime.
Beautiful Homes
A drive through this elite neighborhood will reveal varied architectural styles and gorgeous homes that just might take your breath away. The palm tree-lined streets are filled with diverse styles of homes. Here you will find American Colonial, Neoclassical, Georgian and Federal, Cape Cod, and Neo-Colonial. The traditional homes in Beverly Hills each incorporate the local influences of elegance and magnificence while maintaining modesty and simplicity in design. Living in Beverly Hills isn't for everyone, however, as the average cost of a home is $3,760,980
Excellent Schools
People from all walks of life reside in Beverly Hills—from celebrities to working professionals, retirees, and families. Regardless of which category you fall into, Beverly Hills residents enjoy the private, family-friendly atmosphere found here. Additionally, the excellent schools are another reason that attracts families to the area. This California city boasts some of the best public schools in the nation. Beverly Hills Unified School District operates four K-8 schools as well as two high schools. The school district is nationally recognized as a leader in education, where the students have consistently scored far above the national average on achievement tests. Additionally, the city is home to quite a few private schools, enabling parents to choose an educational institution that works best for their children. As a result, families of Beverly Hills enjoy the consistent and top-notch education that their children will receive while residing here.
Unbeatable Weather
It goes without saying that the weather in Southern California is truly one-of-a-kind. Beverly Hills combines the beach lifestyle with city living—offering residents the best of both worlds. The weather in Beverly Hills is considered a Mediterranean micro-climate, with an average of 278 sunny days per year in the city. After all, there's a reason the "sunny and 70s" cliche exists! The summers are warm, arid, and clear. During the winter, expect occasional rain and strong winds. However, the temperatures continue to remain warm and moderate. Throughout the year, the temperature typically varies from 48°F to 81°F and is rarely below 42°F or above 88°F.
Centrally Located
If the climate isn't enough to convince you why people love living here, then we've got another reason for you! Beverly Hills residents enjoy living here in the central location and, as such, easy access to other parts of the city. Beverly Hills is conveniently nestled between Los Angeles and West Hollywood cities and surrounded by Santa Monica and Bel-Air. While residing here, you'll enjoy easy access to every part of the neighboring cities. And, with LAX right around the corner, you can even find easy access to every part of the world. The unique amenities scattered throughout the city enable residents to enjoy a high quality of life.

If you're ready to explore Beverly Hills luxury real estate, contact Nicole Reber today. As one of the most sought-after Beverly Hills realtors, Nicole is fully equipped to help you find a home that's right for you. There's never been a better time to move to Beverly Hills, where gorgeous weather, a plethora of opportunities, and beautiful homes await you.